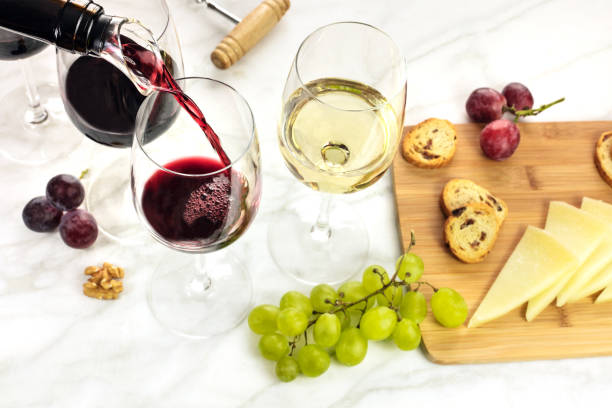 Guide to Wine and Cheese Pairing
We are not sure, but wine and cheese were probably the official food and drink for the gods. This combination, like peanut butter and jelly and Beyonce and Jay-Z's, is a natural fit and has been since the beginning of time. Science supports it.
There are good and bad wine-cheese pairings, just like any good combination. And no one wants that to be tarnished. We've got your back.
We have the ultimate guide for pairing wine and cheese, whether you are hosting your wine tasting at your home or bringing a famous wine-and-cheese duo to someone's home.
Understanding Wine and Cheese Pairings
Before we dive into the best wine-and-cheese pairings, it is important to understand why these wines and cheeses go together and the major sins of wine-and-cheese pairings.
One thing to remember when pairing your favorite wines with food is the wine's tannin content.
Tannins, naturally occurring compounds in grape skins, are a great way to enjoy wine.
Pairing Tip Enjoy aged cheeses such as Gouda or sheep's milk manchego cheese when you drink tannic wines, like cabernet sauvignon. Or indulge in a creamy, delicate cheese like Brie or a soft triple-creme cheese like Saint-Andre.
Acidity is another aspect of wine flavor. Acidity is the taste that makes your mouth pucker, similar to when you have a Sour Patch Kid or a glass of freshly-squeezed lemonade. Common wines with higher acidity include sauvignon blanc, Champagne, and Riesling.
Examples of Wine and Cheese Pairings
Don't worry if you find it difficult to understand the flavors of your cheeses and wines. Let us take care of pairings so that you can focus on creating the perfect Instagrammable wine or cheese board.
Cabernet Sauvignon and Gouda
Enjoy a tall glass with your favorite cab, and then enjoy some aged Gouda as a snack. This pairing works best when you choose an aged Gouda to balance the tannins in your favorite cab.
Add sharp cheddar cheese to your cabernet to complete your wine and cheese pairing.
Syrah, Smoked Gouda
Pair Syrah with smoked Gouda cheese if you want to relax with it. This smooth, light red wine pairs well with Gouda's smokey undertones.
Pinot Noir, Comte
Pinot noir can be paired with many foods, but choosing lighter wines and less sweet cheeses is best. Comte is a French mountain cheese with a subtle, sweet, and nutty flavor that will not clash with your pinot noir or taste buds.
Merlot and Gruyere cheese
Gruyere cheese is the melty, warm, hard cheese made from cow's milk. This sweet and slightly salty cheese pairs well with a good merlot in its solid form.
Chianti & Parmigiano-Reggiano
Italian wine and Italian cheese are both delicious. This Italian cheese, which is hardy and crumbly, is the King of Cheeses. It is a delicious complement to a wide range of wines because it has a buttery, savory taste. The pairing of the Parmigiano Reggiano and Chianti wines highlights the berry flavors.
Do you want something more hearty than cheese? You can order or whip up an Italian meal with Parmigiano Reggiano for your next libation.
Pinot Grigio and Humboldt Fog Cheese
Pinot grigio, one of the most loved white wines, is easy to pair with food and cheeses. Humboldt Fog, soft and creamy goat cheese with a citrusy finish, complements pinot grigio's minerality.
Sauvignon Blanc, Asiago
Sauvignon blanc is light and grassy, which contrasts well with the strong flavors of Asiago cheese. This combination makes a great match.
Chardonnay and Cheddar
Chardonnay is a popular white wine. It has a buttery, oaky flavor that can make pairing it with cheese difficult. In this instance, however, the oakier the chardonnay, the better it will pair with a white cheddar with a strong flavor.
Feta Cheese and Riesling
The perfect summer pairing is riesling and Feta. You will want to savor every last drop of Feta's riesling and saltiness.
Rose and Brie
You can bake delicate, sweet cheeses like Brie at room temperature with fruit or any other way you choose. Our tip? Our tip?
Prosecco & Manchego
You can enjoy prosecco as a brunch drink or as part of a wine and cheese platter by adding some manchego cheese nibbles to your sips.